This year was projected to be a great year of listings for those looking to move in South Florida. The market suffered greatly in 2012 and 2013 because of the low amount of homes that were on the market. However, there was some growth over the last two years that was thought to stimulate optimism and make the market grow significantly in 2014.
Unfortunately that hope has not come to fruition as of yet. Although the market has grown in 2014, and more homes are on the market now than this time last year, there are many real estate agents and perspective homeowners who are frustrated by the lack of quality homes.
However, the growth is still encouraging for the real estate market to see. In April, the market in Palm Beach County had grown 17% from the same time period a year earlier, and the first quarter of 2014 experience a growth of 9% in comparison to the first quarter of 2013.
Fort Lauderdale experienced a massive leap in April 2014 when compared to April 2013. The market had experienced a growth of 41%, and the housing market targeted by young homeowners (which falls in the $150,000 – $299,999 range) increased by 72%.
But in the end, these houses are not going up for sale in the most desired areas, and if they are, then they are not always the highest quality of homes. Sellers are also being told that the market is "hot" which leads them to believe that they can aim high with their asking price, which is actually driving buyers away. Both buyers and sellers are frustrated by the market, and hope to see some resolve soon.
If you have found a new home to move into in the Fort Lauderdale area, then let your local moving company help get you settled in. All My Sons can provide you with unbeatable customer service and will give you the best moving experience you can ask for.
Source: http://www.sun-sentinel.com/business/realestate/fl-homes-for-sale-20140609,0,1464891.story
Your Fort Lauderdale professional movers are excited to hear the optimistic reports about the housing market in the Fort Lauderdale area. In Broward County it appears that the housing market is beginning to improve with reports of increased housing prices. One percent more houses have been sold and prices have increased by eight percent in comparison to last year. Now houses are spending less time on the market now with a median of 39 days. Some real estate agents are even reporting bidding wars over some pieces of real estate. As the housing market continues to improve, remember to call your Fort Lauderdale moving specialists to assist you during your relocation.
Your Ft Lauderdale movers heard that there were reports of manatee-sightings on Mother's Day. Several of the playful manatees moved in on swimmer-territory which scared some and delighted others. Interestingly enough, the manatees appeared to be gathered for the sake of nursing their young; very appropriate given that the sea cow sightings occurred on Mother's Day! Your Ft Lauderdale mover here saw a cool video of the happenings, it is unlike anything I've ever seen at a Ft Lauderdale beach; these beach-goers certainly picked the right day to enjoy some fun in the sun and sea. Lifeguards eventually cleared the waters after the thirty-minute manatee show. Your South Florida movers are sure the sea-cow-swim was a blast while it lasted!
If you are one of Reggie Bush's many followers on Twitter, then you probably already know about the rather lavish gifts he purchased for his entire offensive line. Bush expressed his appreciation to his teammates by giving them each their own Segway, likely the most favorite personal pedestrian vehicle in existence. Your local Miami movers are sure the token of Reggie's appreciation was well received as many Miami Dolphins players were seen resembling children on Christmas (who received Segways from Santa!) riding their new toys around in a nearby parking lot. Teamwork is important, and your Miami Dolphins official movers think of Bush's expression of gratitude as a sign that we should expect good things from the Dolphins on the football field this year!

Living out of moving boxes is no fun, however, if you are relocating to a new house soon, you may be doing just that while transitioning into your new Fort Lauderdale home. There are many reasons why you may move into an apartment in Ft Lauderdale temporarily before moving to your new residence. As you may only be spending a few months waiting to move into your new home, unpacking your moving boxes right away may not be a wise decision. If you expect to be delayed either while waiting for your new house to be built or while waiting for the current residents of your new home to vacate, organizing your boxes effectively is extremely important!
Not all neighbors were created equal, and sometimes a neighbor's personality flaws can really interfere with your own well-being at home. Your Fort Lauderdale local movers know a thing or two about bad neighbors, and may just have a bit of advice for those who may be preparing for a neighborly war!
There are many neighborly dilemmas which can really sour your home life. For every problematic neighbor though, there is a solution! Never underestimate the power of simply talking to your neighbors, getting third parties involved may help, but is not always necessary. And of course, you can always consider moving to a new neighborhood when bad neighbor woes become too much to deal with civilly.
Be it at the beginning or during the tail end of your move, your Ft Lauderdale relocation experts know tasks involved with relocating can quickly become overwhelming! Once you have moved into your new home, you will probably have piles of boxes to unpack which may look like a lot of work. Your towers of unpacked moving boxes may be intimidating but they aren't going to start unpacking themselves, therefore; procrastination is not an option! Just because the items still remaining on your moving to do list may seem like a lot of work doesn't mean that finishing up has to feel like a lot of work. Rather than trying to tackle all of your unpacking duties in one go, consider unpacking more gradually so you can relax productively. Make it a point to unpack a certain number of boxes each day, or to unpack one box every couple of hours or so. On top being more relaxed, by unpacking your moving boxes gradually you can also organize your new home easier and more efficiently. Be sure to find a place for all of your empty moving boxes, they will come in handy for your next move or for the move of a friend or family member!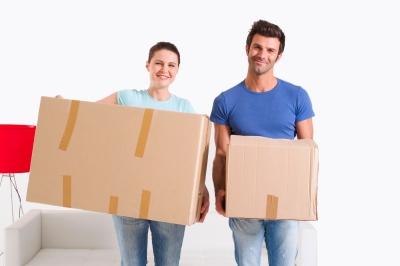 As relocation service providers, your Fort Lauderdale Movers here know all too well how stressful each aspect of your move can be. Hiring movers is one of many stressful decisions you'll have to make while moving; stressful because your move can go terribly wrong in the wrong hands of an inexperienced company. How can you be sure that the mover you hire is the right moving company for the job? Why not browse reviews from people who have recently moved who have hired a company you are considering? Reviews such as the one below should help make you more comfortable about hiring a professional Florida moving company in Fort Lauderdale even if you have never moved with them.
I have used All My Sons Moving several times over the past year and have found them to be affordable, professional, courteous and extremely helpful. I have dealt with the owner, Mark, and he is very knowledgeable and professional on the phone. The drivers and movers went over and above the make sure I was happy and even rearranged the furniture several times for me and put my old furniture in the garage. In addition, they called me on the phone to let me know when they would arrive at my house, so I could leave work and meet them there. They arrived in my driveway at the same time that I did. I am a realtor, and I have even recommended them to my clients. I know of 2 clients who have used them. One was a local move and one was an out of state move. They were both happy with their moving experience and thanked me for recommending All My Sons to them. I would definitely use them again in the future.
After your moving day has come to a close, why not do a favor for other people who are in the all-to-familiar shoes of planning a move? You can pay it forward by helping people just like you find their ideal moving company to handle their relocation needs!
Reviews are extremely useful in helping you make a decision regarding which professional service provider to choose during your time of need. Your local movers in Fort Lauderdale here are proud to provide relocation services worthy of rave customer reviews. One of the many goals your Florida moving company in Ft Lauderdale has is to give our customers a comforting experience from the get go. In many cases we are able to achieve the goal of customer comfort during the first conversation had; when a potential customer has the opportunity to read first hand what previous customer experienced during their move with us, the initial establishment of comfort and trust is much easier to achieve!
"They showed up ahead of scheduled, wrapped and moved me with efficiency. I hate moving, but these folks made it just a bit easier."

"I would highly recommend this company to anyone requiring to make a move."

"Very good experience with this company and the guys were so kind and friendly, easy to deal with, very helpful behavior. Very honest with their work so quick. thanks guys!"
Reading great reviews from customers who highly approve of the Fort Lauderdale moving services they received makes it a breeze for customers to achieve the stress-free move they seek from word go. Feeling stressed about your upcoming move? Take it from somebody who's been in your shoes before; you have nothing to worry about!
Just because you don't have to move doesn't mean that it isn't something you should consider. Moving can be a great way to start over, or a refreshing way to add a little spice to your life. Maybe a lousy neighbor is your reason for wanting to move to a new area, or perhaps you are just growing bored of your current surroundings and want to explore a new neck of the woods; your reason for moving doesn't always have to be urgent. Furthermore; to move for reasons lacking urgency is to move stress-free. Urgency is one of the main contributors to moving stress. If you aren't hounded by deadlines, then your move can be not only stress-free, but also a rather exhilarating experience!